In Memory
Steve Wilbanks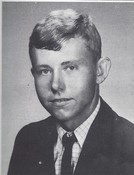 Steven Bruce Willbanks

July 31, 1951 -- March 17, 2005

Forks resident Steven Bruce Willbanks died of cancer in Virginia Mason Medical Center, Seattle, at age 53.

He was born in Sinton, Texas, to Otis and Doris (Henry) Willbanks and graduated from El Campo High School in 1969.

Mr. Willbanks' service with the Army in 1969-72 included duty in Vietnam in 1970-71.

He enjoyed working in the woods as a logger and was employed in Forks by Nielsen Logging and Engeseth Logging, and in Port Angeles by Hermann Brothers.

Fishing and hunting were his pastimes.

Mr. Willbanks married Toni Rene Menear in Forks on April 30, 1993.

In addition to his wife, survivors include daughter Amanda Willbanks, stepdaughter Shannon Breedlove and stepsons Jesse and Wesley Dulin and James Leons, all of Forks; father and stepmother Otis and Peggy Willbanks of Texas; brother James Willbanks of Broken Arrow, Okla.; and sister Linda Zamazal of El Campo, Texas.

He was preceded in death by his mother.

Services: Wednesday, March 23, 3 p.m., memorial in the Church of Jesus Christ of Latter-day Saints, 1301 Calawah Way, Forks.

Drennan-Ford Funeral Home, Port Angeles, is in charge of arrangements.

Memorials: American Cancer Society, Clallam Unit, P.O. Box 861, Port Angeles, WA 98362; or American Liver Foundation, 2033 Sixth Ave., Suite 260, Seattle, WA 98121.

Link to obituary:
http://www.peninsuladailynews.com/article/20050322/OBIT/503220307/0/SEARCH