In Memory
Franklin Shiller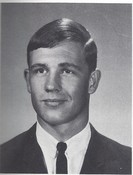 Franklin Ladgie Shiller, Jr., 59, of Missouri City, passed away January 21, 2011 in Houston. He recently retired as a senior chemist from GB Biosciences/Syngenta where he worked for 33 years. He was a member of St. Laurence Catholic Church in Sugar Land. Frank was born in El Campo to the late Franklin Ladgie Shiller, Sr. and Pauline Scotka Shiller. He attended Stephen F. Austin State University. Frank enjoyed the simple things in life, and cherished time with his family. He as a devoted outdoorsman. He was an avid reader and learner.
Survivors include his wife of 30 years, Lana Shiller, their son Franklin Austin Shiller, sisters Mary Simpson and husband Steven of Boise, Idaho, and Margaret McCoy and husband Clay of Henderson, Nevada.
Visitation will begin at 12 noon on Friday, January 28 , with at Parish Rosary at 7pm at Triska Funeral Home. The funeral Mass will be at 10 am on Saturday, January 29 at St. Philip the Apostle Catholic Church in El Campo. Burial will follow at St. Mary's Catholic Cemetery in Nada.
Memorial donations may be made in his memory to the M.D. Anderson Cancer Center or to the American Cancer Society.