In Memory
Tommy Pavlik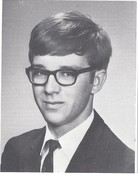 Transcribed from September 7, 1972 edition of Victoria Advocate:
Thomas Leroy Pavlik
EL CAMPO – Funeral services will be held here Thursday morning for Thomas Leroy Pavlik, 21, of 809 N. Mechanic St., victim of an Aug. 29 car-motorcycle accident at the North Wharton – East West intersection in El Campo.
Pavlik died at 3:15 p.m. Tuesday in a Victoria hospital from multiple injuries received in the crash. Police said his motorcycle was in collision with a car driven by Mrs. Anita Vinklarek, 48, of 1311 Lilly St. The impact hurled Pavlik over Mrs. Vinklarek's vehicle and onto the hood of a pickup truck stopped at the intersection.
Funeral services will be held at 9:45 a.m. at Triska Funeral Home Chapel and at 10 a.m. at St. Phillip's Catholic Church.
The Rev. James Conway will officiate with burial in Holy Cross Memorial Park.
Surviving are his father, Verner Pavlik; five sisters, Susan, Donna, Carolyn, Sandra and Karen Pavlik and a brother, Jimmy Pavlik, all of El Campo and his paternal grandfather, Ernest Pavlik of Weimar.
Victoria Advocate, Thursday, September 7, 1972