In Memory
Gerd Conner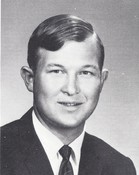 Gerd Peters Conner, Sr., 60 of El Campo, passed away on September 28, 2011 at his home. He was born on October 3, 1950 in El Campo to the late Guy Cecil and Freida Elizabeth Peters Conner. He was Owner of Conner & Sons Water Well Service. Gerd was Scout Master of Boy Scout Troup 333 for 20 years, a member of Knight's of Columbus Council 2490, Ricebelt Coin Club, Elk's Lodge and SPJST. Gerd and his wife Linda were instrumental in helping to bring the Retrouvaille program, which assists married couples in healing their brokenness, to the Diocese of Victoria.
He is survived by his wife Linda Conner of El Campo, sons Gerd Peters "G P" Conner, Jr. of Houston, Samuel Xavier Conner of Huntsville, daughters Mary Kay Wood of El Campo, Lori Z. Cordova of Lockhart, grandchildren Roger Wood, Eli Wood and Millie Wood, great grandchild Serenity Wood, sister Mary Ann Tucker of Angelton, step-mother Minnie Lee Conner of Garwood.
Visitation will be from 12 pm until 5 pm on Friday at Triska Funeral Home. Parish and KC Wake service will be held on Friday at 7 pm at St. Philip the Apostle Catholic Church. Funeral services will be held at 10 am on Saturday, October 1, 2011, at St. Philip the Apostle Catholic Church with Rev. Gary Janak officiating. Burial will follow at the St. Mary's Cemetery in Nada.
Memorial donations in his memory may be made to St. Philip's Church or to the donor's choice.
Pallbearers are Frankie Cernoch, Kris Volek, David Bubela, Grant Tripp, Jerome Wood and Jayson Cordova. Honorary pallbearers are Christopher A. Tucker, Lewis S. Tucker, Robert Bubela, Brett Bubela, Ryan Bubela, Nathan Bubela, Matthew Bubela, Jason Bubela, James Eide, Jonathan Eide, Rudy Bednar and Jerry Jones.