In Memory
Eva Gusman (Legler)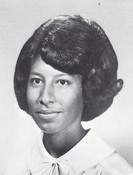 Obituary transcribed from EC Leader-News:
Eva Gusman Legler, 55, of Sugar Land, formerly of El Campo, died Saturday June 11, 2005.
She was born January 17, 1950 in Abernathy to Gregorio and Anatalia Salazar Gusman of El Campo. Mrs. Legler was manager of Radiation Safety at Memorial Hermann Southwest Hospital in Houston.
Survivors include her parents; husband Steve Legler of Sugar Land; sisters Lori Martinez of El Campo, Alicia Leger of Garland and Sylvia Hogan of El Campo; and brothers, Adam Gusman of El Campo, Greg Gusman of Houston, Ernest Gusman of Houston nand Robert Gusman of El Campo.
A Memorial service will be held at 11 a.m. on Saturday, June 18 at St. Robert's Catholic Church in El Campo.
Memorials can be made to Memorial Hermann SW Volunteer Auxiliary; 7600 Beechnut, Houston, TX. 77074.