In Memory
Raymond Hoffman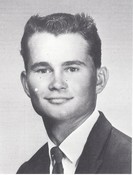 Raymond died June 23, 2000. He was married to classmate Ruby Dornak. Buried at St. Mary's Cemetery, Nada.
Obituary transcribed from June 28, 2000 edition of EC Leader-News:
Raymond Hoffman, 50, of Nada, died Friday, June 23, 2000. He was born January 25, 1950 in El Campo to Edward and Cecilia Kotlar Hoffman.
Mr. Hoffman was a self-employed farmer and a member of St. Mary's Catholic Church in Nada and the BNada Knights of Columbus.
He was preceded in death by his brother, Joseph Hoffman.
Survivors include parents; wife, Ruby Dornak Hoffman of Nada; daughter, Rachel Pieprzya of Nada; and sister, Mary Ann Staff of El Campo.
A rosary was held on Sunday at 7 p.m. at St. Mary's Catholic Church in Nada. A rosary recited by the Nada Knights of Columbus was held at 1:30 p.m. on Monday at the St. Mary's Church.
Services were held on Monday at 2 p.m. at Sy. Mary's Catholic Church with Reverend Joseph Koebel officiating. Burial followed at St. Mary's Cemetery in Nada under the direction of Triska Funeral Home.
Pallbearers were his hunting buddies Brian Seaman, Ronnie Leopold, Ricky Leopold, Clint Leopold, Scottie Leopold and Wesley Leopold.
Honorary pallbearers were Kevin Genz, Anthony Labay, Darin Leopold, Gary Bartek, G.W. Bartek, Doug Seaman, Tom Gold, Rudy Till, Don Buzek, Thierry Hoffman and Dusty Leopold.