In Memory
Judith Johnston (Gangl)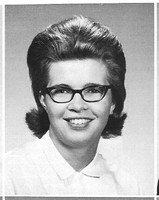 Judith Johnston Gangl of El Campo died November 2, 2012 at the age of 62. She was born on January 11, 1950 in Alberta, Canada to the late Guy and Sara Dickson Johnston. After completing her teaching degree, she taught in Jackson and Colorado counties and substituted at El Campo and Louise School Districts. She was a member of the El Campo Art League and a devout Christian. Her family and hobbies of oil painting, knitting and playing the piano were her great joys.
She is survived by her husband of 40 years, Edwin Gangl of El Campo, daughter Robin Means and husband Donnie of Alvarado, grandchildren Sheyen, Toby, and Ty Means, and sister Janice Hedeen of Monroe, MI.
People of all ages gave her great joy. After she became sick with Alzheimer's Disease at the young age of 57, we realized just how much all her friends meant to her. When taking her to the store or other places she lit up like a light when seeing someone she knew. She had an infectious laugh and never had an unkind word to say about anyone.
She amazed us by knowing who everyone was. She knew people and stories about them. We may never know how a "sick" mind works but we did learn from her that friends must always remain in your mind. We could see the joy she got from seeing them.
A memorial service to celebrate her life will be held 10 am Wednesday, November 7, 2012, at Triska Funeral Home with Pastor Eddie Cude officiating.