In Memory
Doris Taylor (Pfeil) VIEW PROFILE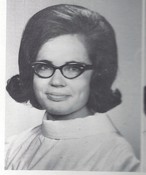 Doris J. Pfeil, age 60 of El Campo, passed away suddenly on February 27, 2011. She was born on December 8, 1950 in El Campo to Walter and Albina Popp Taylor of El Campo.
She graduated from St. Philip's School and was a 1969 graduate of El Campo High School. She was employed as a teller with Commercial State Bank and was a member of St. Philip the Apostle Catholic Church, Catholic Daughter's of America Court #1374 and Catholic Life Insurance. Along with her husband Calvin, they are coordinators for the Community Wide Thanksgiving Dinner, and she was also very involved with the A.C.T.S. retreats.
She is survived by her parents, husband Calvin Pfeil, Jr. of El Campo, daughter Anastacia "Staci" Pfeil of El Campo, sons Adam Pfeil and wife Tammy of Mansfield, Jeff Pfeil and wife Julie of El Campo, grandchildren Kami, Lucas and Brady Pfeil, sisters Paula Clark and husband Richard of El Campo, Donna Merta and husband Chris of El Campo, brother Randy Taylor and wife Cecilia of Pflugerville, father and mother-in-law Calvin and Margaret Pfeil of Victoria. She was preceded in death by her grandparents August and Pauline Popp, and Arthur and Agnes Taylor.
Visitation will be on Wednesday from 12 pm until 6 pm at Triska Funeral Home and 7 pm until 9 pm at St. Philip's Catholic Church. A Parish and Catholic Daughters Wake Service will be held at 8 pm on Wednesday at the Church. Funeral services will be held at 2 pm on Thursday, March 3, 2011, at St. Philip's Catholic Church with Rev. Gary Janak officiating. Entombment will follow at the Holy Cross Memorial Park Mausoleum.
Pallbearers are her nephews Travis Clark, Tim Merta, Glen Jamerson, Shane Pfeil, Cody Shugart, Tommy Green, Derek Merta, Mike Porter, Clayton Pfeil, Timmy Green, Michael Pfeil, Jr. and Stephen Pfeil. Honorary pallbearers are her nieces Brooke Viktorin, Mindy Kmeic, Melanie Porter, Courtney Tupa, Cassidy Tupa, Stephanie Jamerson, Shirley Hudson, Cassie Clark, Celeste Clark, Elizabeth Taylor, Aubrie Pfeil, Stephanie Pfeil, Kristi Pfeil, Robbi Pfeil, Patricia Green, Varsha Green, Misty Green and Jennifer Green.
Memorials in her memory may be made to the St. Philip's School Endowment Fund, St. Philip's School Scholarship Fund, or St. Philip's Church Building Fund.
Click here to see Doris' last Profile entry.