In Memory
Olga Farias (Ochoa)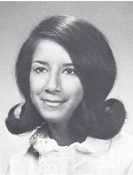 Obituary transcribed from January 8, 2005 edition of EC Leader-News:
Olga Ochoa, 54, of El Campo died Wednesday, January 5 following a lengthy illness.
She was born on July 14, 1950 in Ganado to the late Albert and Nieves Zepeda Farias.
She was a homemaker, avid rose gardener and nurse by profession. She had worked for the South Texas Medical Clinic in El Campo and Wharton in pediatrics for several years and was an El Campo school nurse before taking a medical retirement.
She was a member of the St. Philip Catholic Daughters before forming the Catholic Daughters Court at St. Roberts. She was their first regent and also held the offices of vice regent and district deputy.
Olga was also very involved with the Special Friend Program and served a number of years as a mentor.
She is survied by her son, Brian Ochoa of El Campo; grandson , Hunter Ochoa of El Campo; former husband Blas Ochoa of El Campo; sisters, Dora Casarez and Penny Jalufka of El Campo, Rita Via of League City and Lisa Jalufka of Katy.
She was preceded in death by her parents; paternal grandparents, Enduvigen and Sesario Rodriguez, and maternal grandparents, Manuel and Petra Zepeda.
Visitation was at 11 a.m. Friday, January 7. A Catholic Daughter Rosary was recited at 7 p.m. Friday at Triska Funeral Home. Funeral services will be held at noon today, Saturday, January 8, at St. Roberts Catholic Church.
Serving as pallbearers are Christopher Casarez, Dominique Macias, Devin Via, Joe Robert Perez, Daniel Benavidez, and Mark Benavidez.
Honorary pallbearers are her grandson, Hunter Ochoa, Erika Lara, Amanda Macias, Melissa Casarez, Katherine Cararez, Allison Pesina, Marissa Lara, Elisabeth Jalifka, Kiley Jalufka, Caitlynn Lara, EmilyJalufka, Trinity Frasier, Patrick Jalufka and caregiver Miss Ruby Edwards.
Memorials in memory of Olga Ochoa may be made to the St. Robert's Catholic Daughters of America.