In Memory
Wayland Hicks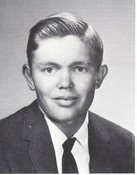 Transcribed from December 23, 1992 edition of EC Leader-News:
Wayland Hicks, 42, of El Campo died Saturday, December 19, 1992, in El Campo Memorial Hospital.
He was born September 27, 1950, in El Campo to the late Elbert and Elizabeth Johnson Hicks. He was a mechanic for Mustang Tractor Company and was a member of Trinity Lutheran Church.
He is survived by his wife, Gayleen Hicks; daughters, Kristy Nicole Hicks and Lacy Lynn Hicks, both of El Campo; son Shawn Roy Hicks of El Campo; and brother, Evan Hicks of Van Vleck.
Visitation was held until 9:45 a.m. today (Wednesday) at Wheeler Funeral Home.
Funeral Services will be held at 11a.m. today at Trinity Lutheran Church with Reverand John Willmann officiating.
Burial will be held in Lutheran Cemetery under the direction of Wheeler Funeral Home.
Pallbearers are Leon Hlavinka, Bennie Reck, James, Bruce and Melvin Hicks and Charles Preuss III.
Honorary pallbeaers are Frankie Fisher, Libby Ramirez, Charles Thurmond, Sheila Wall, Floyd Borak, Maurice Hoffman, Jimmy Holub, David Janak, Randolph Janak, Daniel Linhart, Leon Wishert, Andrew Volek, Dale Holub, Timothy Janak, David Kuenstler, Jerry Castor, Stanley Rek, Joe Vitera and Ben Dorris.